Profile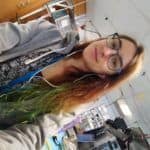 Rachel Hudson
Curriculum Vitae
Education:

Durham University, Thomas Mills High School and Sixth form

Qualifications:

Bachelors Degree in Physics (with a year abroad), 4 A Levels, 11 GCSEs

Work History:

Before this I was a business analyst and a private tutor and during uni I did lots of things like waitressing and supermarket work

Current Job:

Space Instrument Engineer

Employer:
About Me

I'm a young engineer just at the beginning of my career. I love having fun, meeting new people and always learning new things. I'm also apparently unable to upload a photo the right way up!

Read more

I live in London with my best friend from uni. We don't have any pets but I do have a large collection of plants and I would love to get a pet gecko. I like lots of different types of food, particularly Asian food. Actually I only tried curry for the first time last year and I'm really sad that it took me 24 years to find out how great it is! I don't watch a lot of TV but when I do I like to watch cartoons or comedy as I love the bright colours and to just laugh and be silly.

For hobbies, I like to try lots of different and new things. When I was at uni I used to play basketball in a team, although we were pretty bad at it, it didn't really matter as we liked to just play and have fun. I also tried competitive ballroom dancing for a year and it turns out I was terrible at that too… Still glad to have given it a go! I also did aerial acrobatics, martial arts and volunteered to be manager of the toastie bar (because free toasties, duh!)

These days I am quite busy with my job so I don't have so many hobbies as I did at uni, but I still love to do yoga and go out dancing (this time less competitively). I like meeting and catching up with friends, going to eat out in restaurants and exploring the city of London! I am originally from a tiny village in Suffolk so I find it really exciting to be in such a big city with things going on all the time. I also like walking in the parks or cycling through the city, meeting new people and teaching/ sharing my knowledge of Science and Space.

My Work

I help to build and test instruments for two ESA missions to Jupiter and the Sun.

Read more

My team specialise in building instruments called magnetometers, which measure the magnetic field. You will find magnetometers in lots of everyday things such as your smartphone, but we build special space-grade versions. This means that they have to be super reliable (you can't just send an engineer to space to fix it if it breaks!),  sensitive and precise (we want to make sure we can detect the tiniest of changes in the fields) and long-lasting (our previous mission to Saturn spent over 13 years orbiting the planet without stopping, and it will take us more than 7 years just to arrive at Jupiter). Each one we build will be slightly different and designed specifically for where we will send it.

Previous missions we have taken part in have gone to comets ( Rosetta), Saturn (Cassini), Mercury (BepiColombo is on its way there now!), or just to observe Earth (like DoubleStar and Cluster). Most of these were built when I was still a kid or was at school as these projects take many many years to complete.
The two main projects that we are working on now are called JUICE, which is going to Jupiter's Icy Moons, and Solar Orbiter, which we are sending to the Sun! We want to go to the Sun to investigate solar flares as these affect the magnetic field around earth and a really big one could cause problems with all of our satellites and communications on Earth. We want to go to Jupiter to find out more about what its like on the moons there.
Usually our projects are run by the European Space Agency (ESA) but sometimes we will also work with NASA or even China and Japan, for example.

My Typical Day: I do lots of inspections of electrical components for the instruments and often have to write reports on my findings. I may also have to do some tests to make sure the finished instruments work properly, or write code to communicate with the instrument and get human-readable information from it.

Read more

Each and every day at work can be very different varied. I find myself doing a lot of inspections of parts of the instrument, and also the tiny electrical components that make up the 'brain' of the instrument. This is because we need to make sure that everything we build it with is completely perfect before we put it together. Often I will have to write a report on this inspection, especially if I find out that is a problem with anything.

We also have lots of meetings. Every week I will meet with my team for a catch up on what everyone has been doing and what we need to do going forward. We will also have something called a 'tele-conference' (like a meeting online) every week with our project partners in Europe. Some times I will also have to meet with people at ESA (the European Space Agency) or Airbus (who are building the spacecraft we will put our instruments onto) and I can feel a bit nervous as they are very important people.

Sometimes I will have to do tests of the models that we have already built to make sure they are working properly. These can be lots of different things such as magnetic testing (to make sure it doesn't produce its own magnetic field), calibration testing (to make sure it reads the right value it should do), vibration testing (to make sure it wont fall apart when it gets really shakey during launch) and thermal vacuum testing (we put it into a vacuum chamber to simulate space-like conditions and run it through a variety of temperatures to see if it stays alive during this). Sometimes we do this in our lab but usually I have to travel to other cities or countries to use the special ESA test facilities.

Finally, my favourite thing to do is to write code to speak to the instruments. I will have to write a script that send lots of commands to it, telling it which mode to go to or to turn on a sensor or set a certain variable. Then I will get my code to 'listen out' for a response from the instrument to check it has accepted and successfully completed the command. Then if all goes well I might have to check some values or read some data from the responses and show it to the operator/ user in a human readable way.

What I'd do with the money

Run a competition with the winners getting a trip to the science museum in London

Read more

I would like to run a competition where students show me, using their most creative, imaginative and artistic skills, what they think could be under the icy surface of the moons of Jupiter. Older students can base this on research and studies of the moons but it's also okay to stretch the imagination and show me something brand new… Without creativity and pushing the boundaries of what is known, some of the biggest and most impressive engineering achievements could never have happened!

For the winners of the competition, I would like to help their teachers to organise a trip to the science museum for their class, where they are currently holding an exhibition on the sun that features the work of my team and our american competitors at NASA.
My Interview

How would you describe yourself in 3 words?

enthusiastic, fun-loving, travel-bug

What's the best thing you've done in your career?

Travel to different places in Europe to meet other members of the team and support testing of our instruments

What or who inspired you to follow your career?

It's not something I really knew much about until I found this job...

What was your favourite subject at school?

Chemistry and Physics

What did you want to be after you left school?

An Astronaut

Were you ever in trouble at school?

Only for not doing my homework and forgetting my PE kit... Oooops!

If you weren't doing this job, what would you choose instead?

A Teacher or a Data Scientist

Who is your favourite singer or band?

I like a large variety of music - I couldn't pick a favourite!

What's your favourite food?

Pasta - There's so many things you can do with it!

What is the most fun thing you've done?

Travel to and live in different countries around the world

If you had 3 wishes for yourself what would they be? - be honest!

To visit every continent in the world. To become fluent in other languages. To find a good solution to the world's energy crisis

Tell us a joke.

My interpretation of Newton's first law: A body in motion will remain in motion, and a body at rest will remain in bed until they have to get up because they are late for work again...
My profile link:
https://spacem19.imanengineer.org.uk/profile/rachelhudson/
---
---