Profile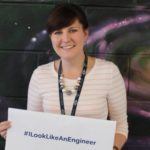 Pam Anderson
Curriculum Vitae
Education:

Notre Dame High School & The University of Strathclyde (both in Glasgow)

Qualifications:

Undergraduate degree in Aero-Mechanical Engineering and a PhD in Mechanical and Aerospace Engineering

Work History:

I have worked at Strathclyde University, doing research on space and aircraft for 3 years. Then I worked at Clyde Space, building small satellites to go into space.

Current Job:

Ambassador for the European Space Agency for Scotland and Northern Ireland

Employer:

European Space Agency Business Applications
About Me

I'm a baking and sports mad Mechanical Engineer working in the space industry!

Read more

 

I live in Glasgow with my partner, David, and our cat Emily. I love to travel the World and particularly love going to see sports events when off on holiday.

My favourite TV Programme is the Great British Bake Off and I love baking new things for my family and work friends!

So that I can keep eating all the cakes I like to run and cycle. Earlier this year I ran the Walt Disney World Marathon (all 26.2 miles) in Florida alongside Mickey Mouse!

My Work

I am the European Space Agency Business Applications Ambassador for Scotland & Northern Ireland - I help people understand how they might use space technology for the benefit of life on Earth

Read more

As a European Space Agency Business Ambassador I help companies develop new services that use data from satellites or other space technology. This involves meeting lots of new people, understanding their needs and how information from space can help to meet these needs.

There are space technologies that we couldn't live without…for example think about GPS and weather forecasting. My job helps people create amazing new services using satellites, for example: animal tracking, mapping for outdoor activities and providing remote healthcare where people can video link to their doctor so that they don't have to travel too far! Space really is everywhere!

My favourite part of my job is meeting new people, hearing about new technologies and helping to address challenges that are faced by lots of different industries. But mostly – I enjoy being part of the space industry!

My Typical Day: No two days are ever the same!

Read more

My days are so varied. I would usually be travelling around Scotland and Northern Ireland having meetings or attending lots of different events. This means I am constantly learning new things about the challenges facing different industries as well as technology developments in space services.

I also give lots of presentations to help people understand what they can do with space.

A big part of my job is helping people to write their applications to get money to develop their space-based service. I love this part as I get to find out about the latest and greatest technology being developed.

What I'd do with the money

I would like to pay for some students to attend Young Engineer's Weekly clubs and travel to visit schools to talk to them about opportunities to work as an Engineer in Space

Read more

I am passionate about young people from all backgrounds with all abilities having the opportunity to work in STEM careers. I would therefore like to use the money for:

Young Engineers Programme

I would love to use the money to fund some students to join in with the Young Engineers Programme. After-school clubs and activities can be expensive but they can truly inspire young people to pursue careers in STEM. I would really like to help those who wouldn't normally be able to access these clubs to join in.

School Visits

I would also like to use the money to travel to schools to help explain the opportunities available in the UK for young people to work in Space! Interaction with someone from a similar background can help young people to realise that STEM careers are for them. I think visits to schools to present and answer questions are a great way to help inspire!
My Interview

How would you describe yourself in 3 words?

Spacey, Sporty, Explorer

What's the best thing you've done in your career?

I was working at NASA when the Curiosity Rover landed on Mars. It was a pretty special time to be there.

What or who inspired you to follow your career?

My amazing Physics teacher at High School or my trip to NASA with the Scottish Space School

What was your favourite subject at school?

Physics or Maths (pretty common for an Engineer) but I also really enjoyed art.

What did you want to be after you left school?

I always wanted to be a Primary School teacher until I went to the Scottish Space School and found out about Engineering

Were you ever in trouble at school?

Yes! I think everyone is at some point!

If you weren't doing this job, what would you choose instead?

A baker, or maybe a teacher.

Who is your favourite singer or band?

I have so many favourites but Coldplay or Snow Patrol would probably be my favourite two bands

What's your favourite food?

Pasta (or chocolate)

What is the most fun thing you've done?

Earlier this year I ran the Disney World Marathon alongside all the Disney Characters!

If you had 3 wishes for yourself what would they be? - be honest!

1. To have a happy, healthy family 2. To live life to the full and 3. To see the World

Tell us a joke.

Why Did the Sun go to school? To get brighter!
My profile link:
https://spacem19.imanengineer.org.uk/profile/pamanderson/
---
---